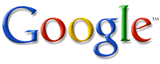 &nbsp&nbsp&nbsp I fuckin knew it... No one would listen to me, but I fuckin knew it... I wanted to buy stock in them when they were around $180 a share... Damn, if only I wasn't as broke as glass on concrete.... Ethiopians have more pull than me... Full Story
&nbsp&nbsp "Google Inc. took over the top spot as the most highly valued media company this week, surpassing Time Warner Inc. in just 10 months of trading as a public company.
&nbsp&nbsp Google's share price on the Nasdaq rose another $2.18, or 0.75 percent, to close at $293.12 on Tuesday, an all-time high. Stock market analysts have suggested the stock could go as high as $325 or $350 a share."