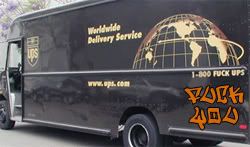 &nbsp&nbsp&nbsp You figure with a company name that could be modified in a million ridiculing ways, (i.e. United Package Smashers, FuckUps, Universal Pieces of Shit) they would try a little harder to make their customers happy... Not one package that i have received from them has come 100% damage free... They are constantly late, they can't package anything properly, and i don't know what the fuck is up with their routing system... My wife and i had ordered quite a few packages from multiple online companies for christmas this last year... Most of them, unavoidably, were delivered through UPS... Two packages have yet to show up... It's now the 10th of January...

&nbsp&nbsp&nbsp I'm kinda happy that they aren't here yet, it still gives me hope that the packages aren't totally destroyed yet... The last three packages that came here, the delivery guy threw it at my door... I went out and measured the distance, to see if he could beat his old record, and his personal best was 19' 3.5" from my door... Thankfully, the items weren't fragile enough to be injured... However, the package i'm currently waiting on IS fragile, and i'll fuckin be here when the olympic hopeful tosses it at my door... I'll have my camera ready, cuz i ain't got shit else to do on Friday - if it actually gets here when they said...

&nbsp&nbsp&nbsp This being the most important package i'm waiting on - was sent out on the 5th of January... This picture shows its current path from delivery... It started in Canada, went to detroit, to illinois, then back to detroit, then illinois again... The estimated delivery date was supposed to be yesterday, but then they changed it to Friday - with any luck, it'll stay that way... Fuck them Fuck them Fuck them... I'll post pictures of me shooting the delivery man when (if) he shows up... Do yourself a favor and never have anything shipped from UPS.. Fuck them Fuck them Fuck them...

Obviously, I'm not the only one...




&nbsp