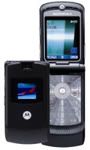 &nbsp&nbsp&nbsp I should really be on the computer more... Well, xMas time was the shit this year... Got all kinds of new toys to play with...

&nbsp&nbsp&nbsp Let me just start off by saying - why is every cell phone that is out - a flip phone?.. i had the sony t610, and with the exception of not being able to custom the sound for a text message and lack of substantial memory, the phone was the shit... It was small, easy to use, and had a large community behind it that customized every minute detail... I'm sorry to say that I had to switch my service plan recently, and with that came a new phone... The ONLY one that was remotely cool, that came in under $500, was the new Razr phone... It's "small footprint" is twice as large as the t610, and when it's flipped open - it's even bigger!! I don't get it... It must be some kind of hip trend that doesn't make sense - like spinner rims, wearing your hat with a flat rim, and voting... So yeah, changing every setting in your phone is easy... Download a hex editor, p2kman, some motorola modem drivers and you're set... Don't forget to back up your shit though... This man has written an incredible howto on Razr modding... He's a regular over at http://www.howardforums.com/...

&nbsp&nbsp&nbsp Oh, modded a Gamecube as well... If you are interested, you need a mod chip, Gamecube, and some basic info... With the ability to control every aspect of your console systems, it's a wonder anyone would buy it just to play video games... Oh, speakin of which...

&nbsp&nbsp&nbsp The Xbox 360 will be getting a new update to it's hardware with an external HD-DVD drive... Yeah, that's what people want... Microsoft controlling every aspect of your home entertainment... Laws, patents, and greedy companies take away our freedom of digital fun... My all-time hero Chris Pirillo said it best in a recent CPU article,
Geeks can easily work their way around these issues with slight-of-hand tricks and random hackery, but what about Joe and Judy Consumer? They can't (and don't want to) fix something that shouldn't be broken in the first place. How many hours of my life have been sucked away in conversations de-explaining the technologies that are holding us back instead of propelling us forward? Allow me to walk you through an average week in the Pirillo home with my fiancée, Ponzi.

Monday: Ponzi wants to buy a video iPod. She loves how it looks, feels, and works. She can't wait to upload her Napster subscription to it after br . . . wait a second. You can't do that.

Tuesday: Ponzi needs a new cell phone because her old one isn't working very well (despite having paid $600 for it—an Audiovox XV6600 PDA phone from Verizon Wireless). We venture down to the store and take a look at the inventory. One model in particular catches her eye, and she wants it. She can't wait to take it home and have her calendar and contacts automatically sync with . . . oh no. You can't do that.

Wednesday: Ponzi sets the Media Center PC to record her favorite food show (hosted by Alton Brown). She wants to transfer and watch the recording on an upstairs television, which already has a DVR attached to it. In a snap we transfer the DVR-MS file across th . . . no we didn't. You can't do that.

Thursday: Ponzi is out and about, running errands and taking pictures of our beautiful city of Seattle. Her SD card runs out of space, but she doesn't want to remove any of the photos on it. She reaches into her purse and pulls out her PSP, removes the memo . . . nuts. You can't do that.

Friday: Ponzi doesn't like the way Verizon is treating us, so we want to move to Cingular. Despite its heavy set of problems, she wants to keep her current PDA phone. She needs something that'll work well with her Outlook data, as noted on Tuesday's adventure. Instead of buying a new phone to make wireless calls, she could use her current Pocket PC on another network to be . . . never mind. You can't do that.

No wonder people hate technology. If I wasn't a geek, I'd probably hate it, too. "You can't do that" is a phrase that every hardware and software manufacturer needs to erase from her memory banks, be it Secure Digital, CompactFlash, Mini SD, MMC, SmartMedia, Memory Stick, Memory Stick PRO, Memory Stick Duo, Memory Stick Pro Duo, Micro-drive, or xD Card memory banks.
&nbsp&nbsp&nbsp No shit there's a huge modding community... We just want fair use of the hardware that we purchased without large companies telling us what we can and can't do... Oh, forgot to mention that i made an evolutionX skin for the box...
Here is a preview
.. If you rikey,
download here
... Man, i need a fuckin beer...

&nbsp