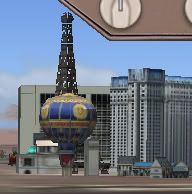 &nbsp&nbsp&nbsp It's not very often that I play video games, but when I do (and when this computer can handle it) it's usually Sim City, Age of Empires or Flight Simulator 2k4...

&nbsp&nbsp&nbsp Knowing every god damn thing there is to know about planes, inside and out, playing this game is almost second nature... Thankfully this time, I don't have to fix the pieces of shit when they break... [Brock knows what I'm talking about]...

&nbsp&nbsp&nbsp Anyhow, as you can see by this picture, I'd be the best fuckin pilot EVER!.. I'd bring people right to the door of their hotel... Custom valet service with no need to spend money on cab fare... I'd even have an open bar in the back, only hot ass stewardesses, no one under 21 years old, no one over 60 years old, no handicapped, no pregnant chicks, no fat chicks, no muslims (I'd like to live to see 30), a pole for dancing, and steak and ribs for every meal... Oh, and for choices of in-flight movies you get: Dumb and Dumber, Terminator 2, Rocky 1, 2, & 4, Airheads, or The Karate Kid... Dude this sounds sweet... In fact, no one is allowed on my plane... Just me and the stewardesses with my beer and steak... Wait.. Why the fuck am I flying the plane?... The pilot is now Lacey Chabert... She's puurty...

&nbsp&nbsp&nbsp Oh yeah, the game is cool...